A Handy Travel Guide To Visit Shimla
Posted by Admin on June, 26, 2020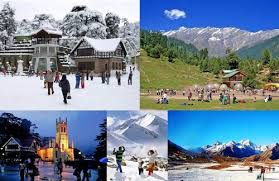 Shimla was the first choice of the British Indian government to get established as a summer gateway. At an altitude of 2205 meters, this beautiful hill retreat was declared the summer capital then. If you visit Shimla, you will certainly witness the dashes of colonial past quiet apparent here. The natural beauty surrounded by the oak and pine forests and its rich cultural heritage make this holiday retreat even more attractive today.

What to see?
Mall Road – this is definitely the lifeline of the town. All activities in Shimla are performed surrounding this main road. Tourists and locals often gather at the restaurants and shops on the Mall Road.
Viceregal Lodge – this ancient colonal building was the adobe of British Viceroy of India during 1888. Today, you can visit here to see the artifacts, books and photograph collection.
Rothney Castle – it was the home of the British Octavian Hume who founded National Congress in the year 1885. It is a private property on Jakhoo Hill.
Christ Church – situated on the Ridge, this Christ church is a popular landmark of the city. It is the 2nd oldest church of the country which was established in the year 1857. It is a perfect example of neo-Gothic architecture standing with its grandeur.
Scandal Point – the name of the place suggests its historical background. At this place, Maharaja of Patiala fled with the girl of then British Viceroy. And, the couple got banished from the hill city.
The Ridge – this place is the center of attraction between Jakhoo Hills and Observatory. In fact, it is the center of the city. It holds the library, church and statue of father of the nation. All the functions, festivals and fairs of Shimla are held here.
Jakhoo Hill – a 30 minutes trek from Shimla and this half an hour journey is worth to make. You can also use the ropeway to reach there. The climb is finished at the Jakhoo Temple.
Gaiety Theatre – it was first time opened to its audience in the year 1887. It was famous for holding dramatic arts performances. The cultural heritage of Gaiety is still continues and shows are performed here even today.

Best time to visit:
Shimla is the hill station which can be visited anytime of the year as per your convenience. Shimla tour packages from New Delhi can be an easy help to plan a trip here.
March – June: these are summer months. Maximum temperature ranges between 25 - 30°C.
July – October: this is monsoon time.
November – February: this is winter here. Snowfall happens at December and the place a wonderland.

How to reach?
By air – you need to reach Chandigarh airport which is the nearest airport (115 km away) to Shimla.
By road – Shimla is well connected via roadways to various major cities of India such as Delhi (340 km away). You can ride on any HRTC (Himachal Road transport Corporation) buses or hire a private cab to Shimla from Delhi. Various budget Shimla tour packages from New Delhi are also available for couple and group booking.
By train – Kalka – Shimla toy train is one of the best attractions here. To reach Kalka, you need to ride on Kalka Shatabdi Express from Delhi.
This entry was posted on June, 26, 2020 at 12 : 35 pm and is filed under Shimla Tour. You can follow any responses to this entry through the RSS 2.0 feed. You can leave a response from your own site.