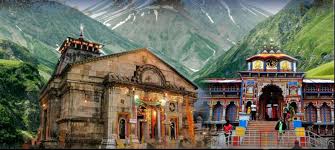 The sacred hill town Uttarkashi beside the flowing River Bhagirathi is the heartthrob of every adventure-seeker and all the nature lovers. Truly, spirituality is revisited here! This town offers a divine experience by including a range of Hindu pilgrimage places which all together vibrate a positive aura around the place. And, of course, adventure quotient of the place is just incomplete without mentioning about Nehru Institute of Mountaineering. It gives an adrenaline rush to the mountaineering-lovers. If you truly want to learn rock climbing, trekking or want to build a career in mountaineering, NIM is your place. Uttarkashi is the base of various trekking tours in the district.
The beauty of the place lies in the dense dark forest enriched green valleys and patronizing snow-laded mountain tops. And, the hilly streams twisting through the Uttarkashi villages just add a cherry to the cake.

Travel guide to Uttarkashi:
If you want an exhilarating holiday through the hills, Uttarkashi is worth a visit. Except for beautiful and serene nature, camping and trekking experiences can be a bonus!

Best time to visit –
For a comfortable and enjoyable holidaying here, book Uttarkashi holiday tour packages during the summer or autumn season. Various festivals are celebrated those times here with full glory. April – June is considered the best time for trekking and local sightseeing.

Things to do –
If you are looking for activities, there are many options for you such as rock climbing, mountaineering, water rafting, cliff jumping and trekking. And, there are many places to visit including a national park, serene lakes, hot water spring, beautiful glaciers, and many more pleasant sightseeing options. In fact, there are a number of religious places too which remain crowded by the Hindu pilgrims every year.

Some popular visits include –
• Dodi Tal – this serene lake is situated at 3307 meter height. It is believed that Lord Ganesha was born in this place which is naturally covered with rhododendron, oak and deodar trees.
• Barsu Village – it is the base of Dayara Bugyal trekking tour.
• Maneri Dam – this beautiful natural dam combines straight with River Bhagirathi.
• Gangotri – it is popular as one of chota char dham of India. this place has the temple of Goddess Durga. The River Ganga originates here from a glacier.
• Harsil – adventure lovers must visit here. This gem of UK is a dream place for the fun activists to enjoy biking, trekking, etc.
• Dayara Bugyal – at 3038 meter height, this place is blessed with rising and falling paddocks.

How to reach Uttarkashi?
When you book Uttarkashi holiday tour packages, the travel agency takes care of your travel and stay. It is very easy to reach here. You can choose from rail, air or bus routes to travel.
By air – take a flight to Dehradun which is 145 km away from Uttarkashi. After reaching there, you can hire a taxi or ride on a local bus.
By rail – you need to drop at Dehradun railway station and hire a taxi from there to reach Uttarkashi.
By road – either hire a cab or ride on a bus to reach here. Bus services are easy available from various cities of India to reach UK.
Enjoy!
This entry was posted on August, 13, 2020 at 12 : 35 pm and is filed under Holiday Package. You can follow any responses to this entry through the RSS 2.0 feed. You can leave a response from your own site.